Regular price
$150.00 USD
Regular price
Sale price
$150.00 USD
Unit price
per
Sale
Sold out
Nashville 3 Pickup Blend Wiring Harness
by Music City Bridge.
This is the definitive wiring for the 'Nashville Tele'.
We use top-quality CTS and Oak Grigsby components and the harness is hand-wired by professionals at Glaser Instruments on an illustrated card to enable easy addition to any T-style guitar.
The new Nashville 3 Pickup Blend Wiring Harness makes available an updated way to get all of the sounds of the Brent Mason Wiring with several improvements. Specifically, this version improves the blend feature in 2 key ways and eliminates the need for the 3rd knob.
The update allows the player to set and save the amount of middle pickup being "blended" with the bridge PU when the switch is in the bridge position. This means you can move the switch and return to the bridge position with your blend intact. 

Originally, the player had to add in just the right amount of blend in the bridge position then dial it out to go to any other position, then find their perfect blend again.

Our new custom blend pot allows a much more gradual blend than a standard pot which, when acting as a sub-volume to the main volume, puts all of the blend control between 8 and 10 of the sweep. 
Components:
Oak Grigsby 5 way switch

CTS 250 Control Pot

Custom CTS Push-Pull Pot
Preferred Pickups: 
Neck: Seymour Duncan Antiquity II Mini Humbucker
Middle: Seymour Duncan STK-S2 Hot Single Coil Pickup
Bridge: Seymour Duncan Tele Vintage Stack 
*If you order the Harness + Pickups we include the pickups listed above with your order.
Here is a demonstration from Zac Child:
A little 3 PU tele history:
The Nashville 3 Pickup Blend Wiring Harness is an update of the "Brent Mason Wiring" that dates back to the early '80s. The 3 pickup Tele, which has come to be commonly called the "Nashville Tele", came out of the Glaser Instruments repair shop as a common mod for Nashville studio and gigging players to allow them to carry fewer instruments and still cover the sounds they need.*  While a middle pickup seems obvious now, at the time it was novel. One of the first two or three players to ask for it was Brent Mason, a newish kid in town playing with the legendary guitar mentor, Don Kelley.
Brent spent the next decades becoming an extremely influential studio player, recognized for his style and sound.  Consequently, the "Brent Mason Wiring" has been widely available as an aftermarket wiring upgrade.
In particular, the wiring and pickup combination that Brent Mason and Joe Glaser added to Brent's 67ish Telecaster, became iconic for the addition of the mini-humbucker as a neck pickup and, even more significantly, for the middle pickup with the ability to blend in a bit of that pickup to soften the bridge pickup's edge.  Brent's inspiration was to add a 3rd potentiometer as the mid PU blend to an otherwise standard 3-way switch configuration.  This allowed him to have the combinations the 5-way switch was providing but with the option of a gradual addition of a bit of warm middle pickup to the bright bridge pickup.  This created an all-new complex and softer Tele rear pickup sound, quite different from either the Tele rear pickup by itself or the classic Strat bridge/middle combination.
What makes this new:
The 3rd pot is eliminated as the blend pot replaces the traditional tone control - which 99% of players only use to soften the bridge pickup, something that the blend does much better.
The use of a 5-way switch further allows a simpler and more centralized control of the many voice choices.
Pulling out the push/pull blend pot makes it possible to add the neck pickup to the bridge pickup.  Adding the neck pickup in the bridge position drops the middle PU blend to assure a true Tele center position sound.
*This is not to claim that no one on earth ever installed a middle pickup in a Telecaster prior to the Glaser Instruments mods, but that its common and visible use had its origins there circa 1979-80, was configured on hundreds of guitars and later adopted by Fender and others as the "Nashville Tele."
**While pickups are not included with this harness, the Gibson Mini Humbucker or  Seymour Duncan Antiquity II Mini Humbucker are great choices for the Neck position. The Seymour Duncan Strat neck/middle Hot Stack STK2n is the best choice for the middle pickup (wired single-coil, top coil only) and the Seymour Duncan Tele Vintage Stack is a great choice for the bridge position.  While Brent Mason originally used a Duncan 5/2 Tele Bridge - designed by Glaser as a part of his mixed magnet innovation - Mason converted to the hum-canceling Vintage Stack when it was introduced.
Share
View full details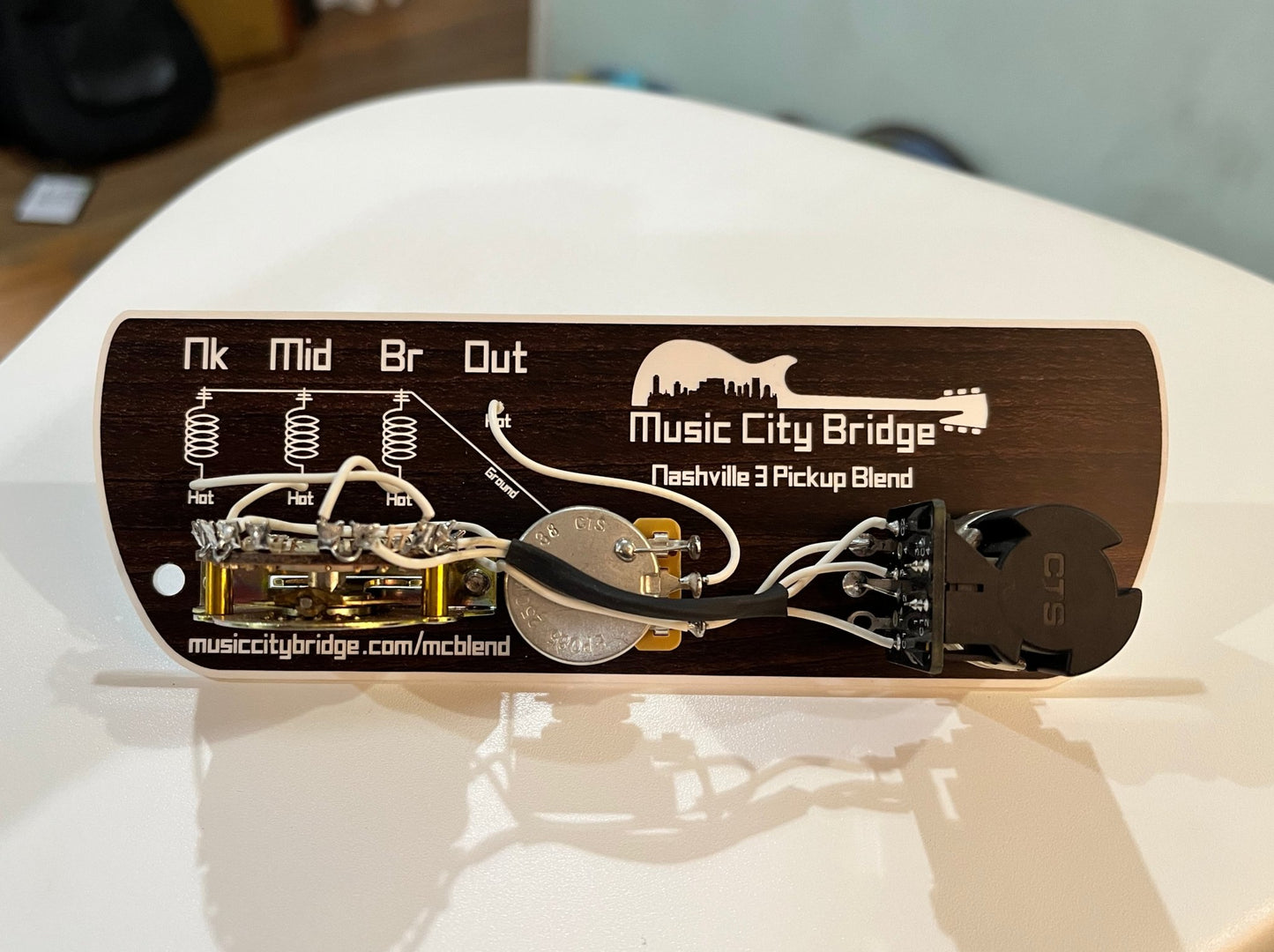 Great Sound
Mellowed out the bridge pickup, plus added conventional Tele neck and bridge combo, gave new sounds to my 25 year old Nashville Telecaster.
Great wiring
Love the tones, especially with the recommended Duncans. Very versatile.
Nashville Harness
Great parts, great workmanship, and great service.
Die perfekte Lösung für die Schaltung einer Nashville Telecaster
Ich besitze eine Brent Mason Telecaster und war von Anfang an mit der Klangreglung unzufrieden. Das Einblenden des Mitteltonabnehmers fand nur im letzten 10tel des Potibereichs statt und Die Tonabnehmer klangen alle sehr abgedämpft. Mit der Lösung von Music City Bridge kann ich nun sauper den Mitteltonabnehmer einregeln und die Gitarre klingt spritziger. Leider waren die Kabel für Hals- und Bridgepickup auf der mitgelieferten Karte vertauscht, so dass ich alles nochmal zerlegen musste.
Looks great.l
Well I have to wait until I get my custom pick guard to be able to assemble this baby but looks like it's all there and can't wait to get started.. Good to have the videos online to be able to get a jump on it... Big shout out to Big Tom bukovich. Thank you, Musiccity.
Good product, easy install
Got this for Christmas yesterday and installed it on my Brent Mason Tele last night. Crazy, right?? It wasn't hard, took about 3 hours to remove original and install this. I really like it so far, I hope I won't miss the tone control too much on the other positions. I used original 3 hole Brent control plate, gonna plug the center hole.
My bad
I finally overcame my poor tech skills and got it installed correctly. My bad for a poor rating earlier. This harness is perfect for what I was looking for and surpassed my expectations.The folks at MCB were quick to help me with my install and even forwarded a diagram that helped me resolve the issue. Thanks for the help guys and I recommend this harness to all who want an answer to better tone options than the sluggish 3 knob system
Connect issues
When I finally figure out how to connect it, I'll let you know. Very confusing install. My Seymour Duncan hot stack is not connecting correctly so I can't get it to blend with my split rail Lindy Fralins
Who we are:

Music City Bridge products are designed by Joe Glaser and the master technicians at Glaser Instruments. Our offerings are the result of decades of experience and are trusted by professional musicians around the world.

Our promise:

We will do everything in our power to ensure you have a good experience with our products. If you have any questions. Call or email anytime.

615-606-2720 howdy@musiccitybridge.com