Regular price
Sale price
$18.99 USD
Unit price
per
Sale
Sold out
Introducing the Music City Bridge "Nut Slot Gauge." This simple and effective tool ensures you achieve the lowest possible nut action while eliminating open-string buzz. 
With four built-in preferences of bump up above a "zero" fret - 0.000 (in thousandths of inches), 0.003, 0.005, and 0.008, the Nut Slot Gauge easily and accurately measures your nut slots' current height, with or without strings, and unaffected by action or the truss rod setting. This helps you achieve the softest feel and also the least detuning due to grip.
How to use the Nut Slot Gauge:
Move the string out of the slot.

Place the measuring gauge into the slot and slide the tool toward the bridge.

If you hear a click, then the nut is taller than the gauge.

If you don't, the nut is lower than the gauge.
"The nut slot height is one of the most critical and routinely neglected aspects of a great guitar setup. It is difficult to control the depth within the tight tolerances that are required.  You work the slot down slowly until it's just right, but if you go too far the string buzzes and you have to start again!  The Music City Bridge "Nut Slot Gauge" provides the instant and dependable working feedback necessary to control and refine slot depth and deliver a top-notch nut setup every time."
- Ned Steinberger
Share
View full details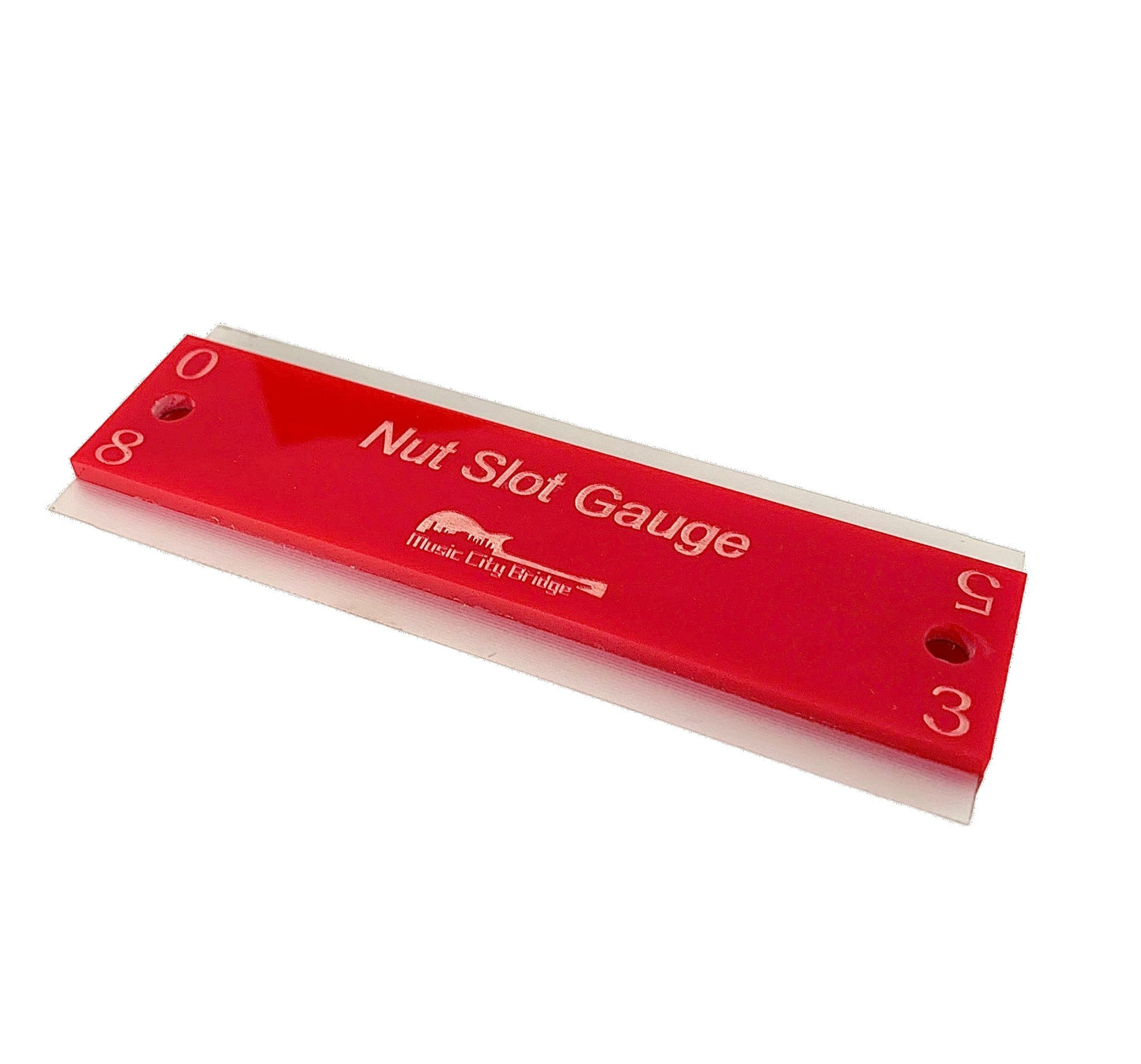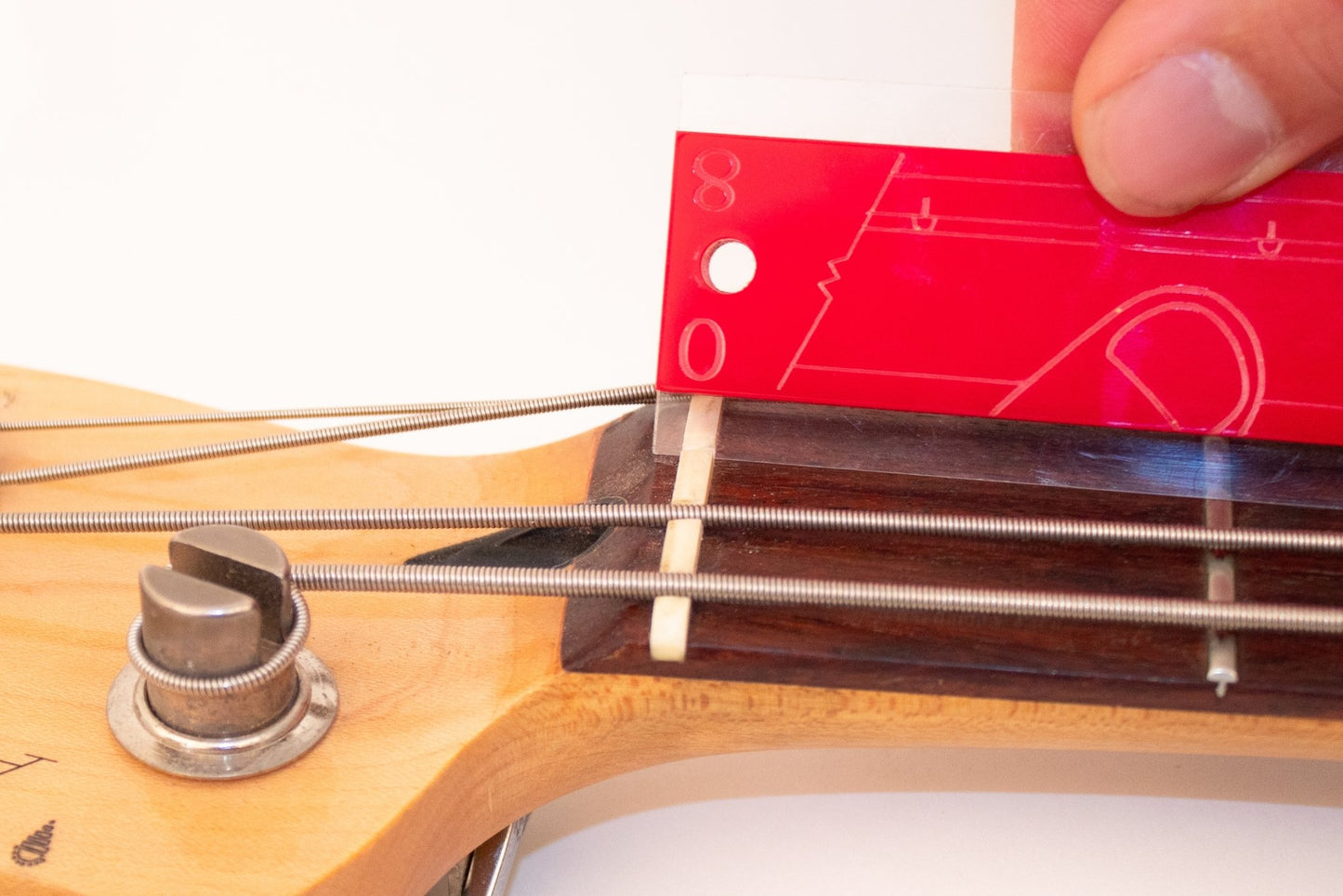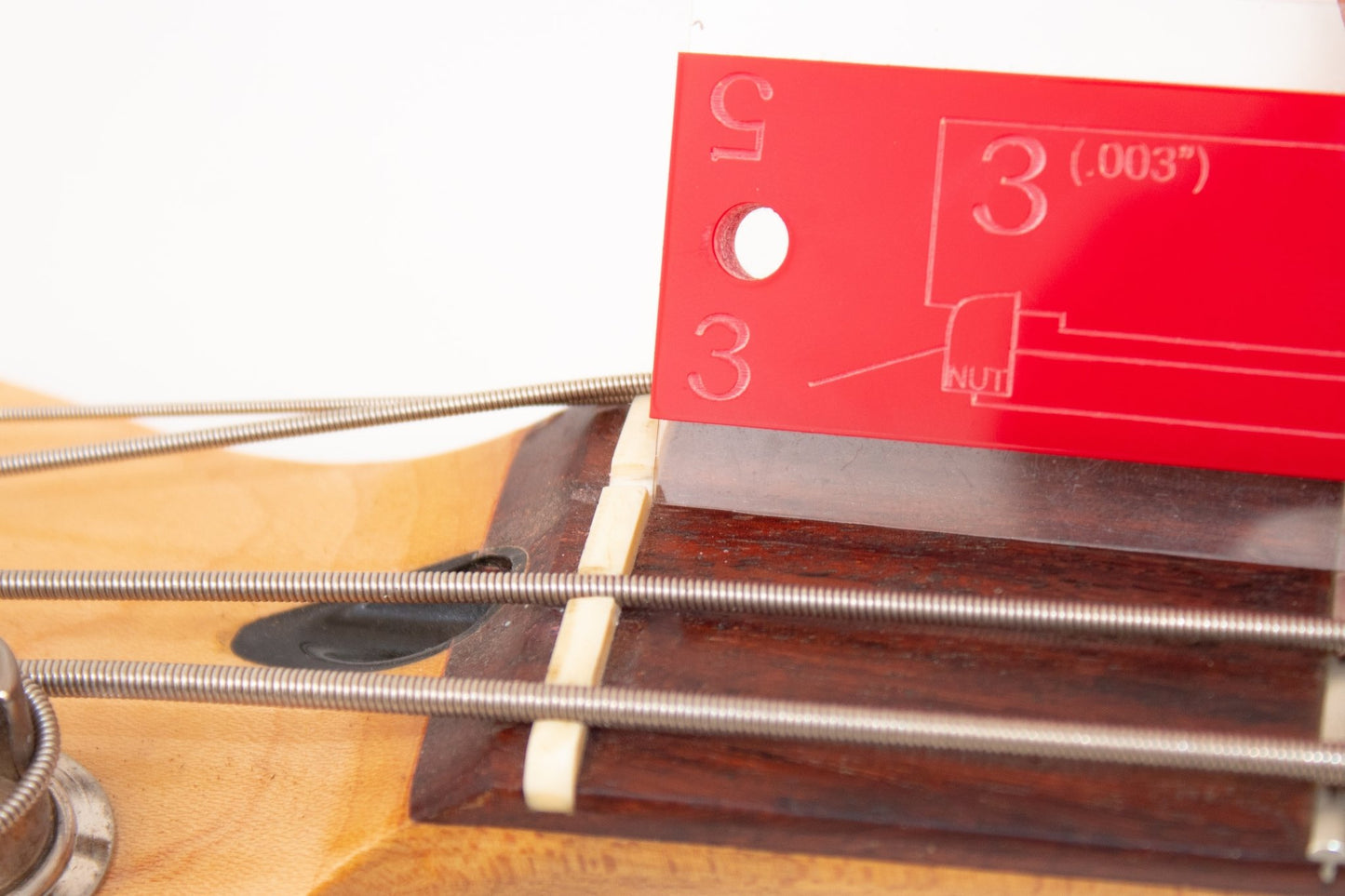 Wow
It took some adjusting to get use to it as compared to my nut slot gauge from stew Mac but once I got it. It made total sense. So I went through all my guitars with it in very little time. This is a time saver. Thankyou
Great little helper
It does what it should do. Great little tool to set up a guitar
Inexpensive and accurate
Easy to use and as good as something far more expensive.
Great product, great service
Useful and time saving tool. Highly recommended.
Do the job right the first time without rework. Received my order quickly. Love Music City Bridge products.
Watched video on how to implement the implement but not quite sure how to use it.
Watched video on how to implement the implement but still not quite sure how to use it.
I am using it on a ukulele I need more detailed instructions perhaps best if I call and ask.
Generosity
I really want to thank Joe, and his crew for not only producing good quality stuff, but also for being so generous with the INGENIOUS IDEAS that start the ball rolling through their creative process. I feel like I know you guys. Thank you.
JJZ…(°¿.°`)
It Does What It Does
This simple gauge does make it easier to roughly dial in the nut height in relation to the frets. Saves a bit of time.
Great Tool!
Makes measuring nut slots soooo much easier.
Simple and Effective
What a great idea and tool. It works by measuring nut slot height above the fret plane instead of string height above the first fret. What a timesaver!
Makes Nut Work Easier
Just Fantastic! Much easier to dial in a nut than with other products I've tried. Bravo!
Who we are:

Music City Bridge products are designed by Joe Glaser and the master technicians at Glaser Instruments. Our offerings are the result of decades of experience and are trusted by professional musicians around the world.

Our promise:

We will do everything in our power to ensure you have a good experience with our products. If you have any questions. Call or email anytime.

615-606-2720 howdy@musiccitybridge.com