Regular price
Sale price
$34.99 USD
Unit price
per
Sale
Sold out
"Quick Flip" Saddledriver - Bridge and Saddle Adjustment Tool
The "Quick Flip" Saddledriver has been used for years at Glaser Instruments as an in-house tool for setup and intonation. Visitors, picking them up, or watching our videos, always asked for a set. So we made enough to share.
The set contains two double-ended Saddledrivers with the most common bridge and saddle tools at each end. This kit is virtually all you need for electric guitar and bass bridge adjustments. 
Each set is equipped with:
0.050 inch Allen hex

1/16 inch Allen hex

1.5 mm Allen hex

Small flathead screwdriver
Note: The Allen keys have been precisely chamfered to eliminate burrs and help tools seat in screw head.
The Saddle Driver is ideal for:
Gotoh Style Bridges

Tune-O-Matic Bridges

Gibson ABR Style Bridges

Mastery Style Bridges

Fender Style Bridges

Gibson Wraptails

Most aftermarket bridges
Also can be used for:
Pickup height adjustment

Pickguard removal

Knobs with set screw
Quotes:
"Finally, a proper comfortable tool that feels great in my hand and I won't lose."
- Chris Miller (Keith Urban Guitar Tech) 
"I'm so impressed because I love fine tools."
- Dan Erlewine (Luthier, Guitar Tech)
Share
View full details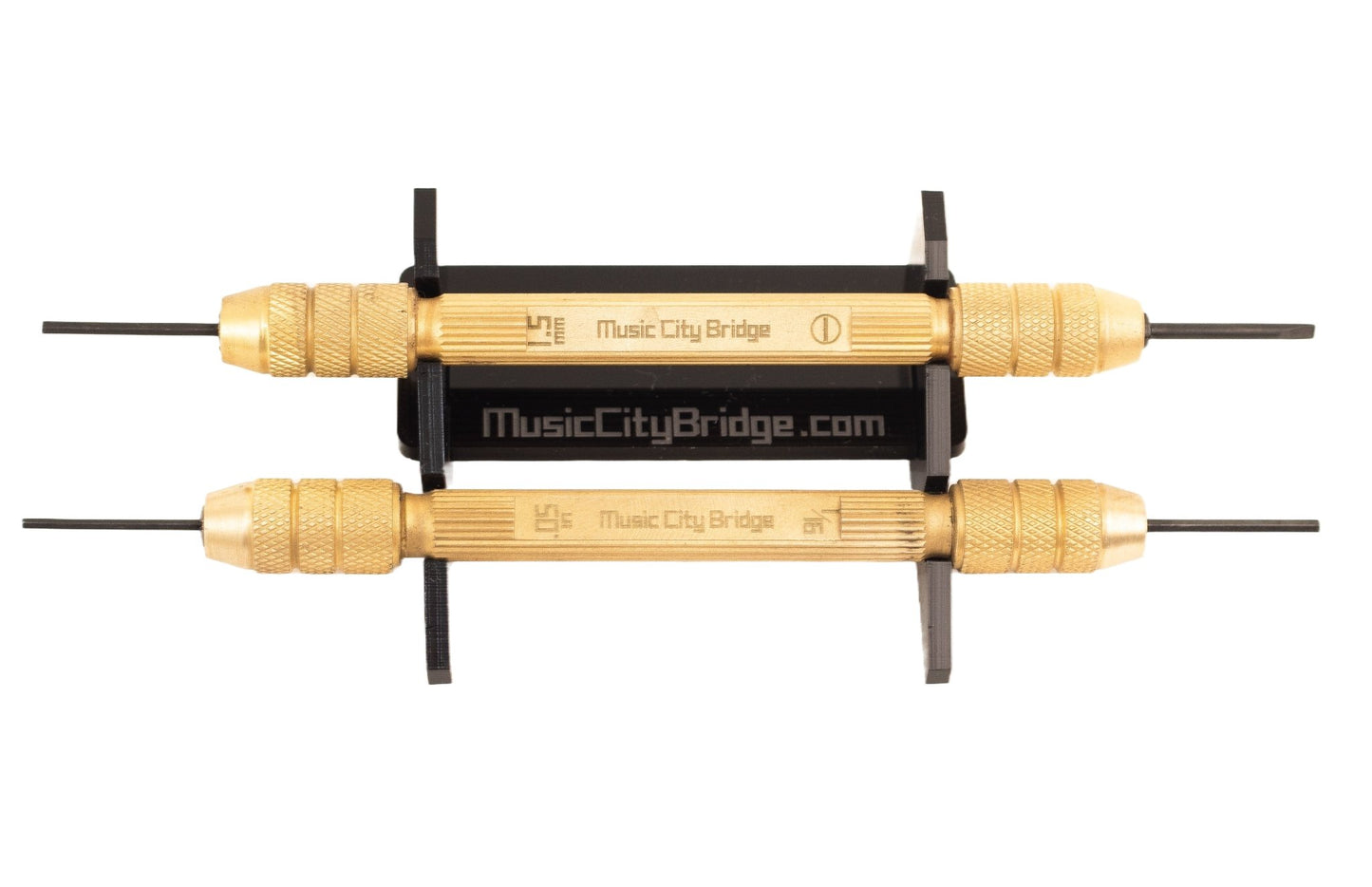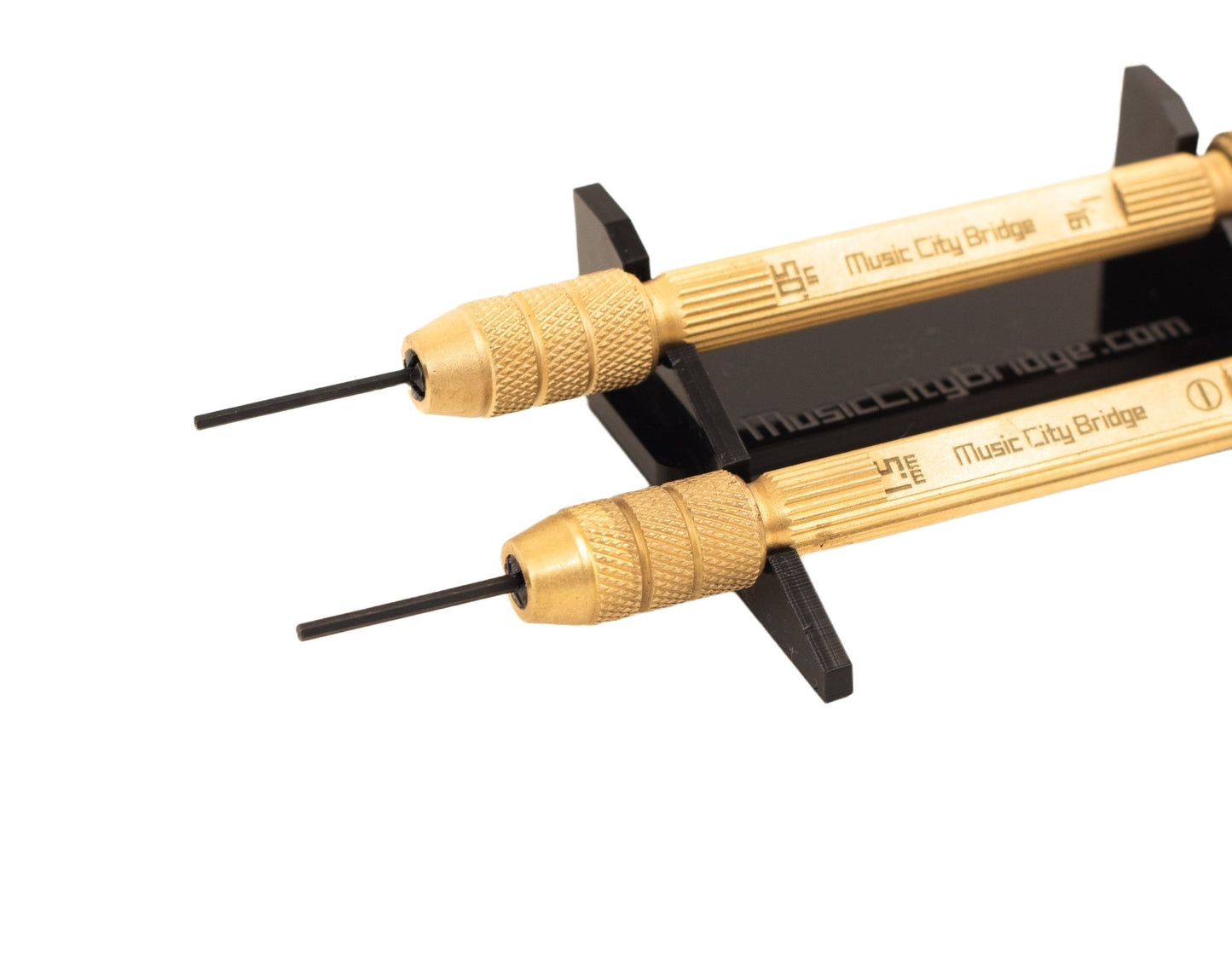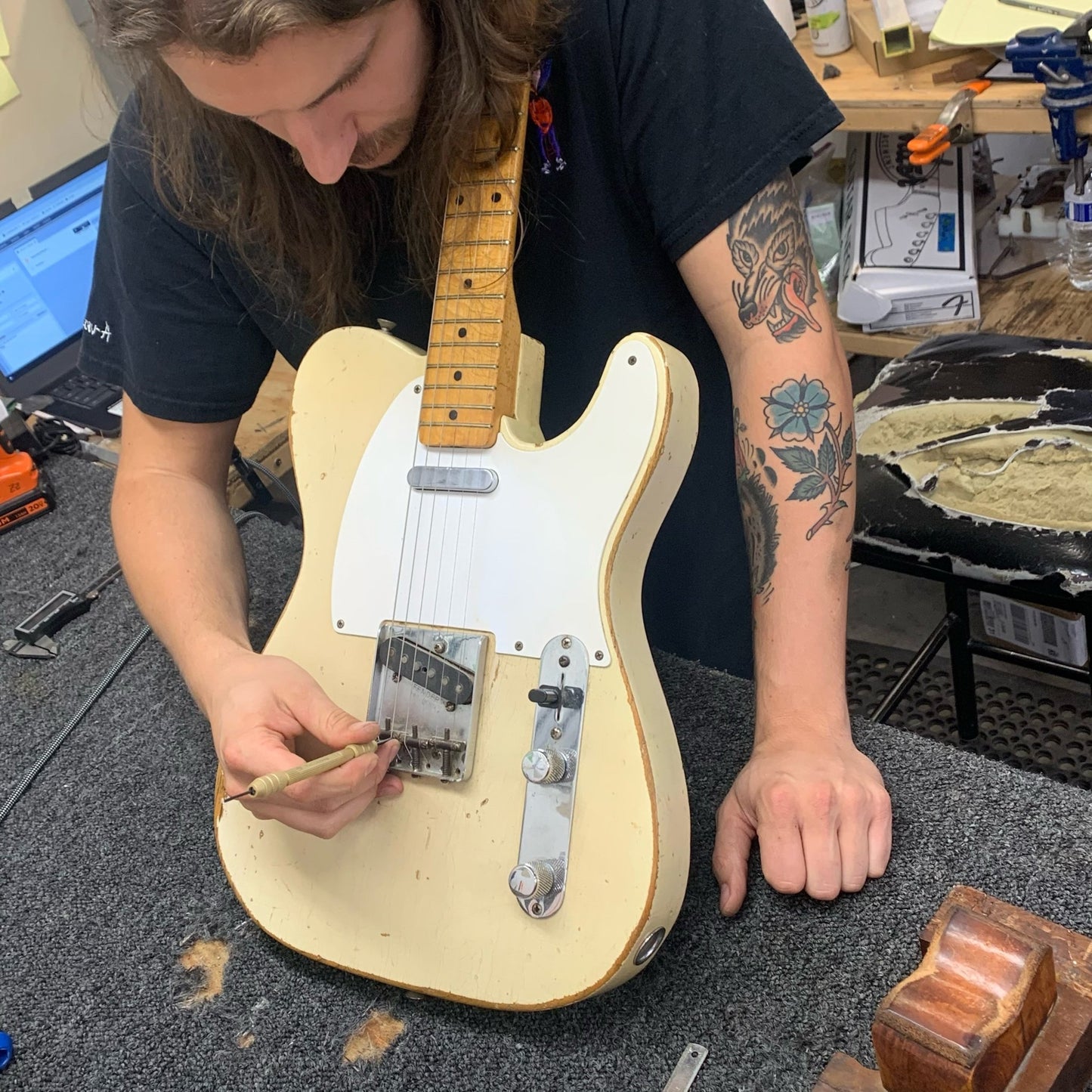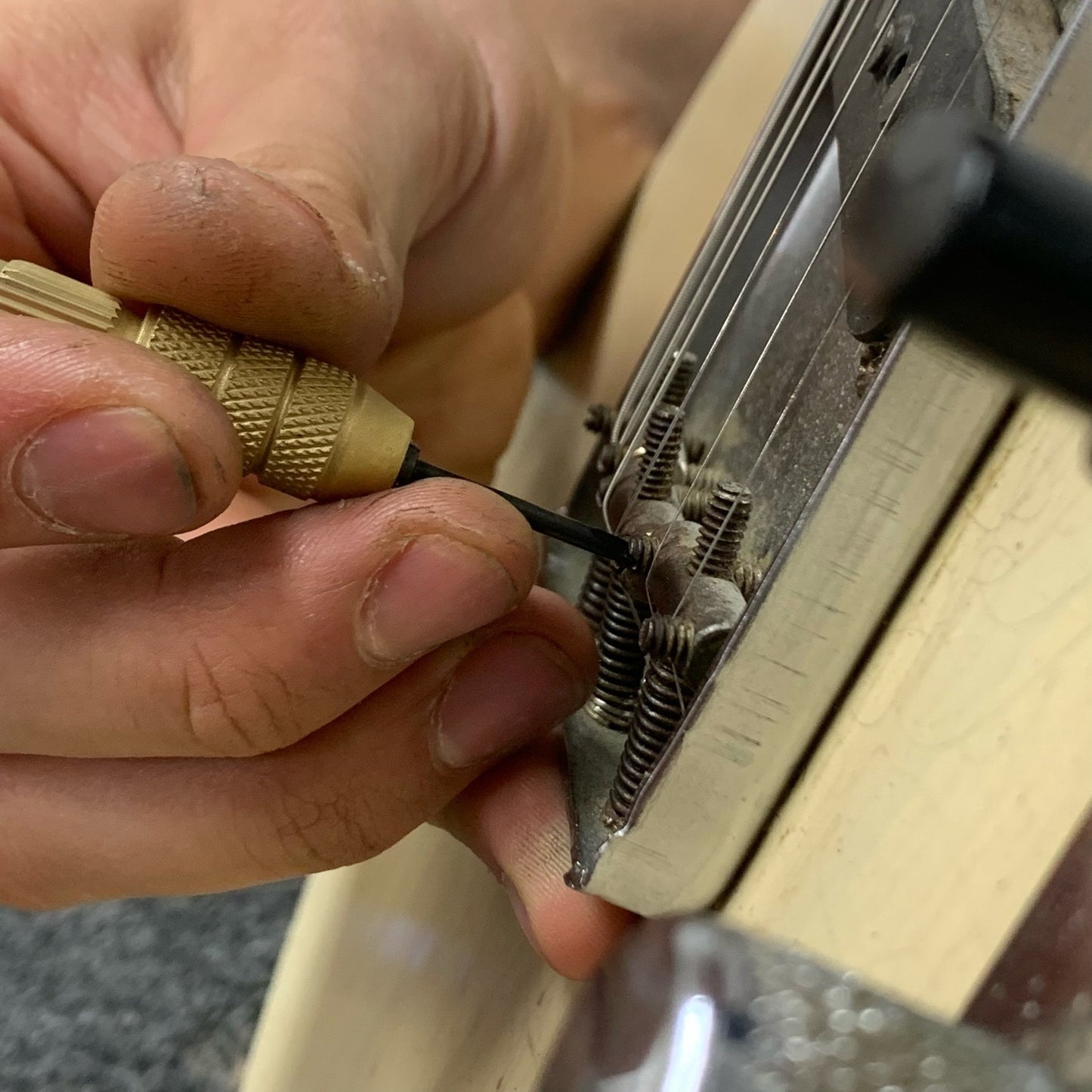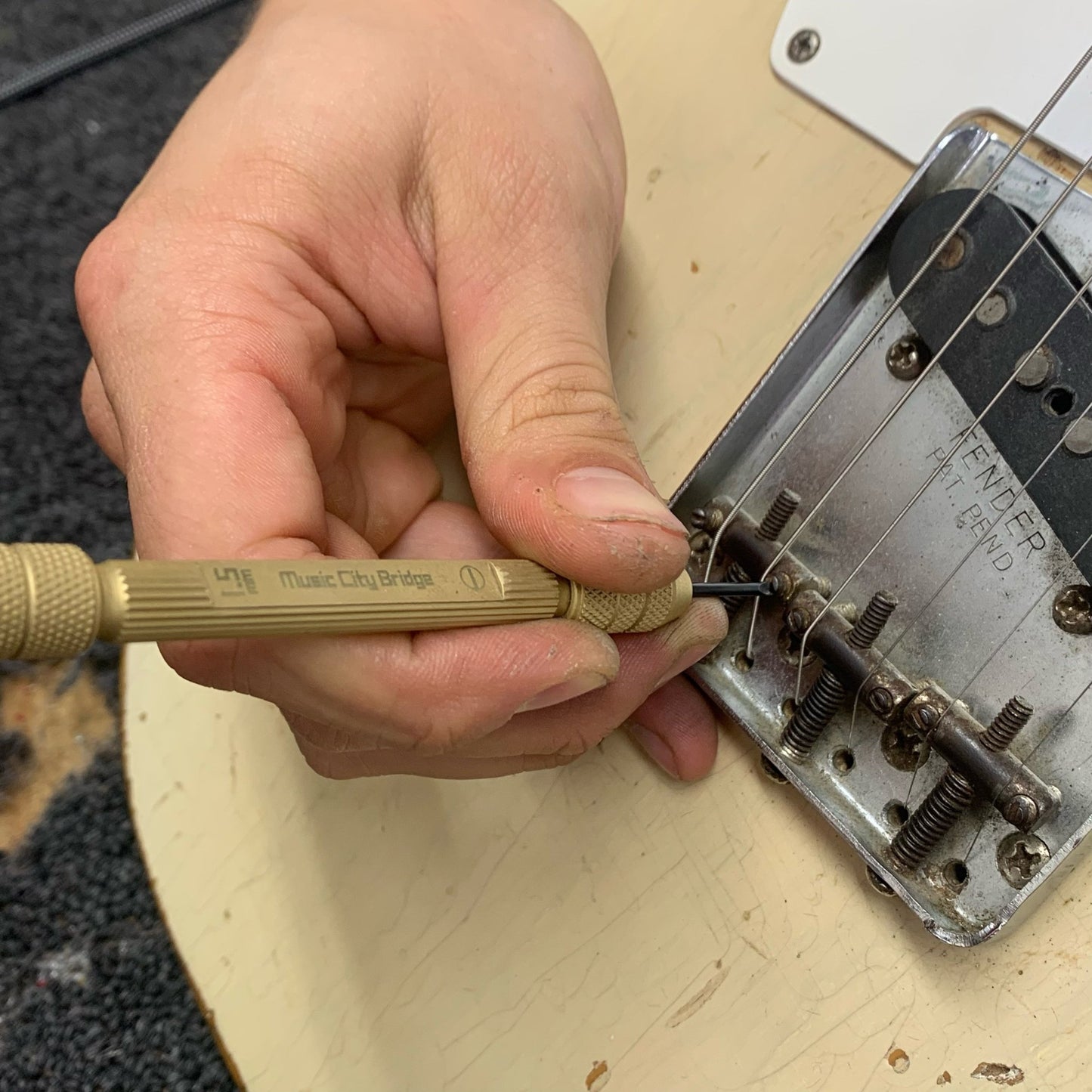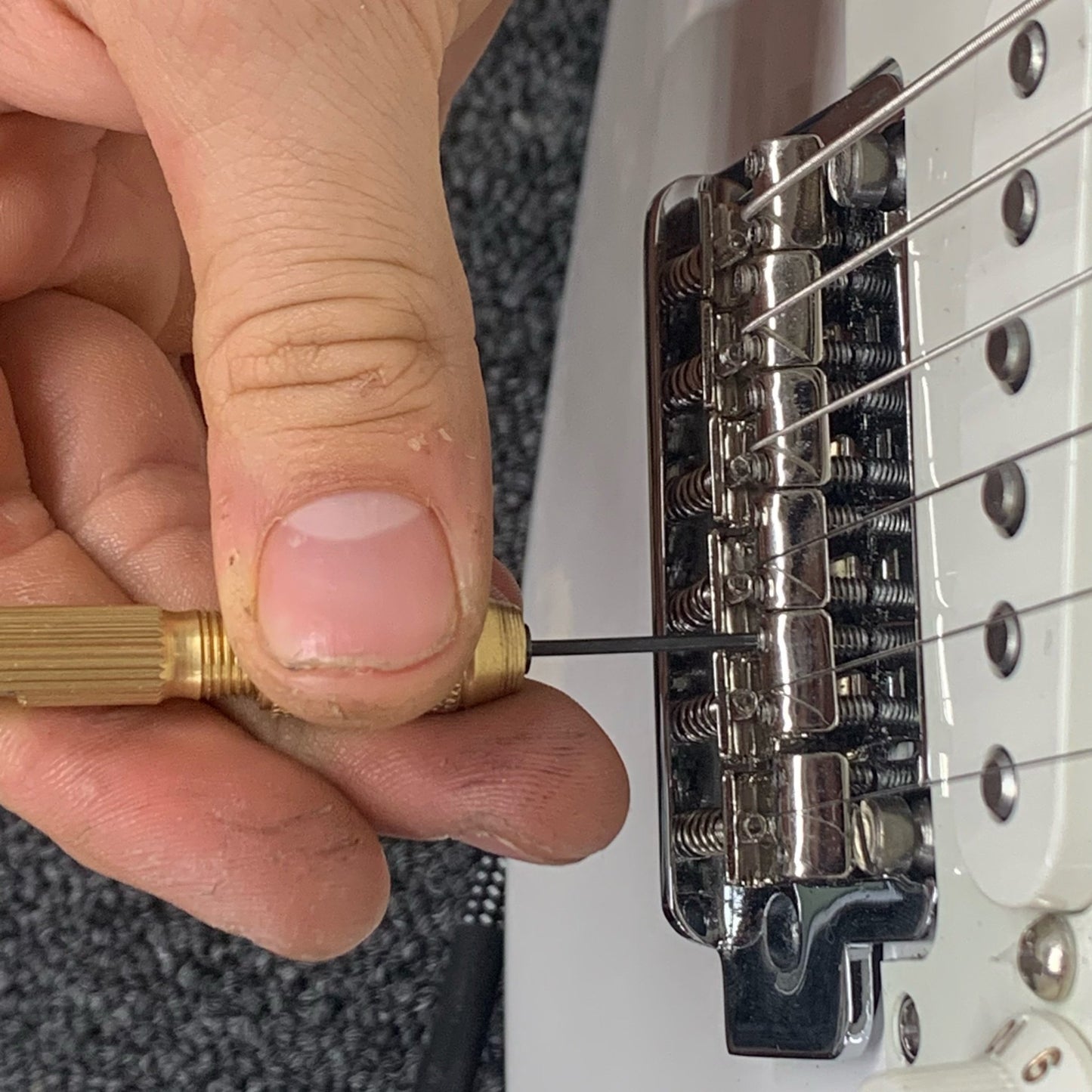 Great time saver
Great time saver. Very high-quality product.
I was really impressed with the quality and I would recommend them to anyone that does guitar setup work
Quick Flip" Saddledriver
This tool never leaves my bench. Its of the highest quality!
Quick flip driver
Excellent quality! A great companion to carry with for quick repairs! Great build quality! Solid! 5 stars++!
Great tool
Very well-built and worth the price.
Exactly what I needed
For many years every single time I would set up my guitars I wish I had an allen key / hex driver instead of those dinky little doo dads with the weird bend. I would see guitar techs using hex drivers or smaller crewdrivers for sdjustments, and they always had better handles than the junk I (and A LOT of us non pros) were stuck with. It always seemed like that it would feel like I had more control and more of an assured experience to use a better tool. This set feels great to use. Its a much better experience using these tools for adjusting bridges and saddles etc. Nice job guys!
A tool for the Bench
It's a high quality set of tools that comes in real handy, especially if you leave it out on the bench.. feels good in the hand too.! Nice.
Great set of tools
Just the right size for my work desk, easy to grip, perfect sizes for quick adjustments, an always out, readily available tool. Highly recommended.
Super handy & well made!
These are great! No need to mess around with the stock "L shaped" allen wrenchs thatcome with guitars. Those are cheaply made, wear out and can damage your guitars hardware. These puppies are pure quality. They won't wear out or damage anything. They're all I use now.
Who we are:

Music City Bridge products are designed by Joe Glaser and the master technicians at Glaser Instruments. Our offerings are the result of decades of experience and are trusted by professional musicians around the world.

Our promise:

We will do everything in our power to ensure you have a good experience with our products. If you have any questions. Call or email anytime.

615-606-2720 howdy@musiccitybridge.com